Tripawds is a user-supported community. Thank you for your support!
Our most unique Tommy has a story Hollywood could get to grips with. Here he tells you all about it.
I've had quite a rough ride but now am safe in my wonderful home with loads of love showered upon me helping me forget the horrors of my past. I was born on a gentleman's veranda and had three sisters. The gentleman took really good care of me and my mum but I was a bit of a wanderer and ended up crawling home howling in pain with severely injured hind legs (our lovely animal communicator told us it was from being beaten) that became infested with maggots. I was taken to the vet who suggested I be put to sleep; my owner refused and saved my life by having my back legs amputated.
All was going well and I was adjusting to my new situation when my mum had another litter of kittens and decided I was a threat. She chased me from the house and some poor excuse for a human threw me into an empty swimming pool with no shade, food or water; the summer temperatures are very high. I was terrified. By chance, some animal rescuers found me and started throwing food to me on a daily basis over the high fence, as they couldn't get to me straight away, a way in needed to be discovered. Two weeks later they succeeded after posting for help on Facebook but I was so scared I wouldn't let them catch me; finally out of desperation and exhaustion I let them.
I was rushed to the vet and a foster home was found. Postings on Facebook found my owner who wanted me back but, although he loved me, realised I wouldn't be safe agreed to give me up. Once again, through Facebook, Anna (mum) and Christian (dad) heard my story and offered me a forever home. It actually turns out that, quite by chance, Anna knew the gentleman's brother, a well-known artist, the two men have been supportive and follow my progress with interest. I'm told I am an amazing soul who walks on my front paws with my back end wiggling in the air. I'm very affectionate but not all that innocent. Although spayed I've taken quite a fancy to our little Tinkerbell who was born with cerebellar hypoplasia, 'CH' or Wobbly Cat Syndrome so as a result had delayed growth and hasn't been 'done' yet. She came into her first heat the other day and oh boy you should have seen the commotion! She was wagging her tail in my face and I was pinning her down and trying to swat at Sammy (just arrived, very senior with no teeth) who just happened to be walking past; not easy to do when you only have two paws…..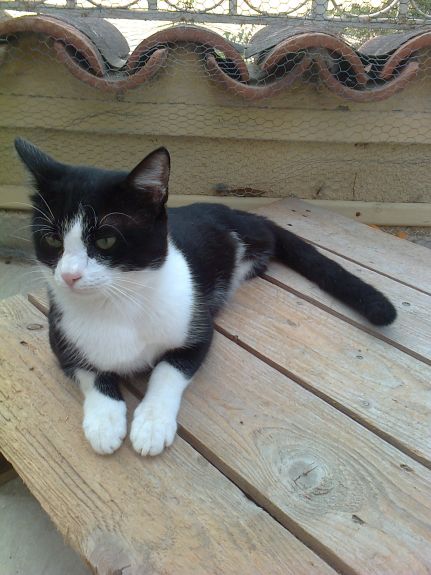 https://www.facebook.com/tommyuniquecatwithonlytwolegs/